Colonial Shutters
---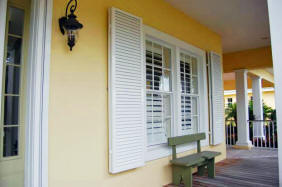 Affordable Hurricane Shutters and Storm Protection for your Home or Business.
AJ's Aluminum, Inc. designs and installs custom Colonial Shutters for your home or office. We take great pride in providing high quality hurricane shutter and storm protection product installation in Pasco and Hernando Counties.
Custom designed impact resistant Colonial Shutters are building code approved and engineered to withstand strong hurricane force winds and large flying debris to give you peace of mind regarding your home or office during a storm.
What is a Colonial Shutter?
Colonial Shutters offer a traditional appearance while providing an excellent source of protection from the damaging effects of the sun, rain, and wind.
Colonial Shutters are designed so that they fold close to cover the entire window and provide complete protection, when not in use the Colonial Shutter is latched open on both sides of the window offering an aesthetic appeal to any style home or office.
* All Hurricane Shutters & Storm Panels are approved by Miami-Dade strict building code and have a 5 year manufacture warranty.