Re-Screening
---
Re-Screening Sales, Installation, and Service.
Before you spend several hundred to several thousand dollars on pool enclosure repairs and rescreening consider the following…
Pool Enclosure Re-Screening is one of the most hazardous jobs around the house and it's only natural that you hire someone that is properly licensed and insured. Proper equipment is necessary as in general liability and workman's compensation insurance. To verify that someone is properly insured call Hernando County Licensing at the following number (352) 754-4109. Make sure the company or individual you contact is a licensed Aluminum Contractor.
Years Experience is Important, someone that's not been around long may not be around in the future if you need other repairs or warranty work. And make sure that everything is in writing. Find out how they want the check made out. If it's cash or an individual name watch out! There goes the guarantee.
Quality of Material and Workmanship means the difference between a job lasting a couple of years or many years. There are many screens available and "Phiferwire" is preferred by most reputable screen companies because of its long-lasting qualities. The most popular gauge is 18 x 14, which means 18 holes per inch one way and 14 holes the other. 20 x 20 mesh is popular in some areas because of the no-seeums. In any case you should insist that the top is not "sheet rolled" meaning one large screen stretched over the entire top, each panel should be individually rolled. And finally, never pay a deposit, payment in full after completion is an industry norm.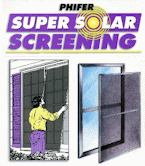 Benefits & Features
Blocks up to 90% of the sun's heat.
Excellent outward visibility
Keeps carpets and draperies from fading
Saves energy
Widths available: 36″, 48″, 84″
Roll length available: 100′
Easy to install
Colors available: Charcoal and Silver Gray