Vinyl Room Enclosure
Horizontal Vinyl Pane Windows
---
Discover yet another method of enclosing your screened porch – the horizontal slider – the most simple yet versatile window available.
Horizontal VINYL PANE windows, when closed and locked, offer protection from the outside elements. When open, they allow up to 50% air-flow through the screened area. Vents can also be removed allowing total screen room ventilation.
Horizontal VINYL PANE windows are custom made to fit your existing openings. Windows feature sturdy aluminum frames in white, bronze, or ivory with 10-mil vinyl in clear, smoke grey, bronze or purple vinyl. Easy one finger slide from side to side.
---
4 Track Vertical Vinyl Pane Windows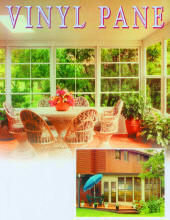 Discover the perfect balance of beauty and practicality with Custom Window Systems' VINYL PANE line. Designed to be easily installed with no expensive remodeling costs, these vinyl pane windows offer the perfect solution for homeowners seeking style and safety.
Add to this custom Window Systems' reputation for durability backed by our 1O-year warranty, and we're sure you'll realize the real value of windows by Custom Window Systems.
VINYL PANE windows feature durable, weather-resistant, 10-mil vinyl. All windows are custom-fitted for smooth operation and are designed to provide easy cleaning from inside. Our unique design makes ventilation up to 70% possible. Select either white or bronze frames with clear, bronze, purple or smoke gray vinyl.
If you live on a golf course, among trees, or have active children or pets, you'll appreciate the durability of Custom Window Systems' VINYL PANE windows. The demonstration below shows why.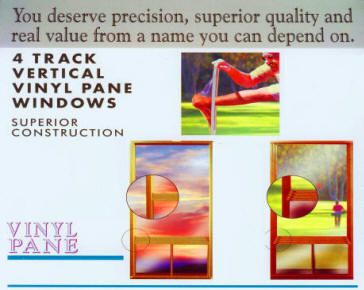 The highest quality vinyl, as well as every bit of hardware, both visible and unseen by the consumer, complements carefully tested designs that are proven durable and user-friendly.
Select either our vertical spring-loaded style window or our tilt pin style with stainless steel retaining springs for reliable operation. Either style offers our unique fresh-air system which gives you up to 70% ventilation.