Pet-Resistant Pet Screens
---
Are You Tired of Replacing Your Homes Mesh Screens Due to Pet Damage?
AJ's Aluminum, Inc. specializes in the installation of pet-resistant screening. AJ's can install pet screening into window screens, sliding screen doors, porch screens or anywhere traditional mesh screening may be used.
AJ's pet proof window screens offers stronger more durable protection, up to seven times the strength of traditional insect screening products made from fiberglass or aluminum.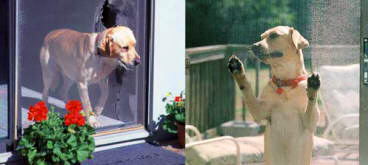 AJ's Pet Screens are specially designed and engineered to resist tears, punctures, and other damage that may be caused by household pets like dogs and cats. Even though our pet screens have extra strength and durability they still maintain excellent outward visibility.
Pet screens are ideal for any style home or business and can be used on screened window screens, screen doors, and screened porch enclosures or patio enclosures.
"Resist Damage Caused By Dogs, Cats, and Other Animals "
Benefits & Features
Excellent Outward Visibility
Extra Strength and More Durable Than Traditional Screens
Prevents Tears, Punctures, and Other Damage
Made of Strong Vinyl-Coated Polyester
Easy to Install
Available Widths: 36″,48′, & 60″(100′ roll only). Roll Lengths Available: 84″, 25″, & 100′
Available Colors: Black & Grey